We'll be having a Muddled Bramble Cocktail followed by Venison Carpaccio, Poached Hake with Pepper Dulse & a Sea Buckthorn & Orange Cake. Please scroll down for the recipes.
Hedgerow Cocktail: Muddled Brambles
Muddled Brambles
1 part blackberry syrup (see below for recipe)
1 part rose petal syrup (see below for recipe)
1 measure of gin
Squeeze of lemon juice
Top up with champagne or prosecco
Serve with a couple of blackberries & a rose petal
Blackberry syrup
1kg blackberries, washed
Granulated sugar
Put the berries in a large, heavy pan, along with just enough water to get the juices running (a couple of cms the base of the pan should do it). Bring to a boil and simmer, stirring occasionally and crushing the fruit against the side of the pan, until the berries are collapsed and have given up all their juice.
Transfer to a jelly bag suspended over a bowl (or strain through a colander lined with a couple of layers of muslin). Leave the juice to drain through overnight. If you want to maximise the yield and aren't worried if the syrup is a bit cloudy give the bag a bit of a squeeze to get out the last drops of juice.
Measure the juice, then transfer to a clean pan along with 750g sugar for every litre of juice. Stir over a low heat until the sugar has dissolved. Leave to cool and then bottle.
Rose Petal Syrup
1 kg sugar
0.75l water
Pared peel of 1 lemon
Petals from 10 rosa rugosa flowers
50g citric acid
It makes about 1.25 litres.
Add the sugar to the water and heat until dissolved. Leave to cool to 40degrees. Put in rose petals and lemon peel. Leave to infuse for 36 hours. Add citric acid. Strain through a jelly bag. Bottle in sterilized bottles.
You can also use this syrup to make a sorbet by diluting to taste – make it stronger than you would if you were going to drink it!
Venison carpaccio with cobnuts, orange, horseradish and wild salad leaves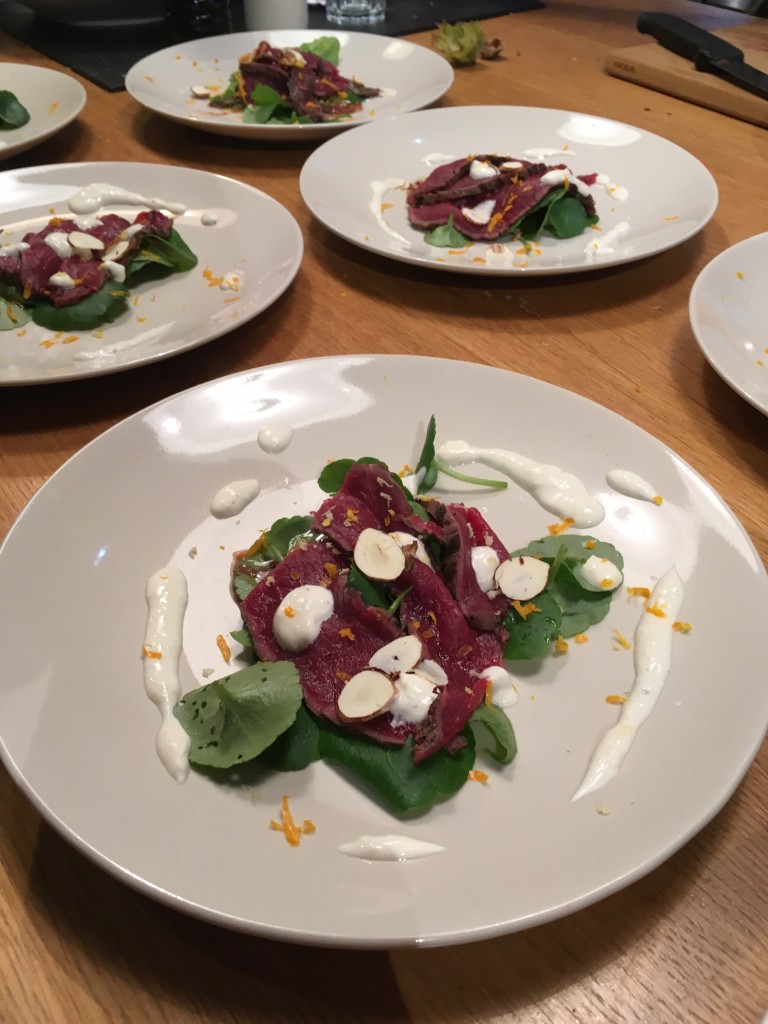 Serves 6
12 whole shallots, unpeeled
2 tablespoons olive oil & extra for brushing
1 sprig fresh thyme
1kg boned venison loin
2 tablespoons grated fresh horseradish
200ml half fat crème fraiche
A handful of cobnuts, sliced
1 tsp white wine vinegar
1 sprig fresh rosemary finely chopped
1 orange, finely grated zest
Wild salad leaves such as sorrel, navelwort, hairy bittercress, chickweed
Preheat the oven to 180ºC/350ºF/gas 4. Toss the shallots in the olive oil, season, and place them in a shallow baking dish with the thyme sprig. Cover tightly with foil and bake in the oven for 45 minutes or until soft.
Meanwhile, preheat a heavy griddle pan that's large enough to hold the venison comfortably. If your griddle pan is too small, cut the venison into 2 pieces and grill it in 2 batches. Remove all the fat and any sinew from the venison, season well, and brush with olive oil. Place on the hot griddle and sear and brown all over – about 2–3 minutes. Take out of the pan and place on a plate to cool for about 30 minutes.
Mix the horseradish into the crème fraîche. Season it well with salt, pepper and the vinegar. Lay some mixed wild salad leaves on a plate. Thinly slice the venison with a sharp carving knife and lay 3 slices on top of the salad. Peel some of the warm shallots, tear them in half and lay a piece on top of each piece of venison. Dollop a little horseradish crème fraîche on top and scatter a few sliced cobnuts over the venison. Sprinkle the plates with the rosemary and orange zest before serving.
Hake wrapped in kelp & steamed on seaweed with a pepper dulse sauce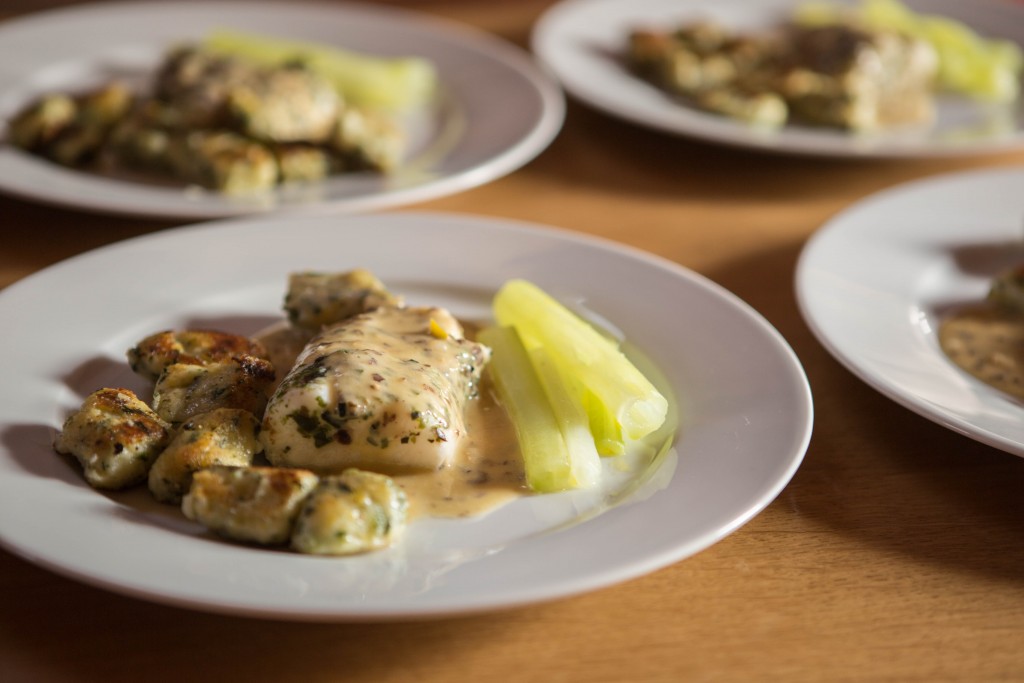 Serves 4
For the hake:
4 sheets of kelp fresh or dried soaked in cold water for 30 mins approx. 10cm in length
1 side of hake fillet (400g approx)
Selection of seaweeds to cover the base of the pan to sit fish on e.g. dulse, serrated wrack, carragheen
Pepper dulse Beurre blanc Sauce:
Makes 8 floz 225ml
Serve 2-3 tablespoons per person
3 tablespoons vermouth or white wine
3 tablespoons white wine or cider vinegar
3 tablespoons poaching/steaming liquor from fish
1 tablespoon of finely chopped shallot/red onion
Salt and pepper
1 tablespoon cream
6oz unsalted butter
Lemon juice
Two tablespoons of fresh pepper dulse or one of dried rehydrated in cold water
Cut hake into 4 portions and season with salt and pepper. Wrap the hake in kelp and place on top of seaweeds in a shallow pan with about 3 cm depth of water. Place on the lid and bring to the boil.
Turn down the heat and steam for approx ten minutes. Check the fish for firmness and turn off the heat while you make the sauce.
Put the first 4 sauce ingredients (in list above) in a stainlees steel pan, heat and reduce it down to 1 tbls. Add cream and reduce till the sauce thickens then whisk in the cold diced butter one piece at a time off the heat keeping the sauce warm. Add salt and pepper to taste, pepper dulse and a squeeze of lemon juice. Keep warm.
Unwrap seaweed from fish and cover with two three tablespoons of sauce
Sea Buckthorn Berry & Orange Cake (if you don't have sea buckthorn berries this cakes is still delicious without them)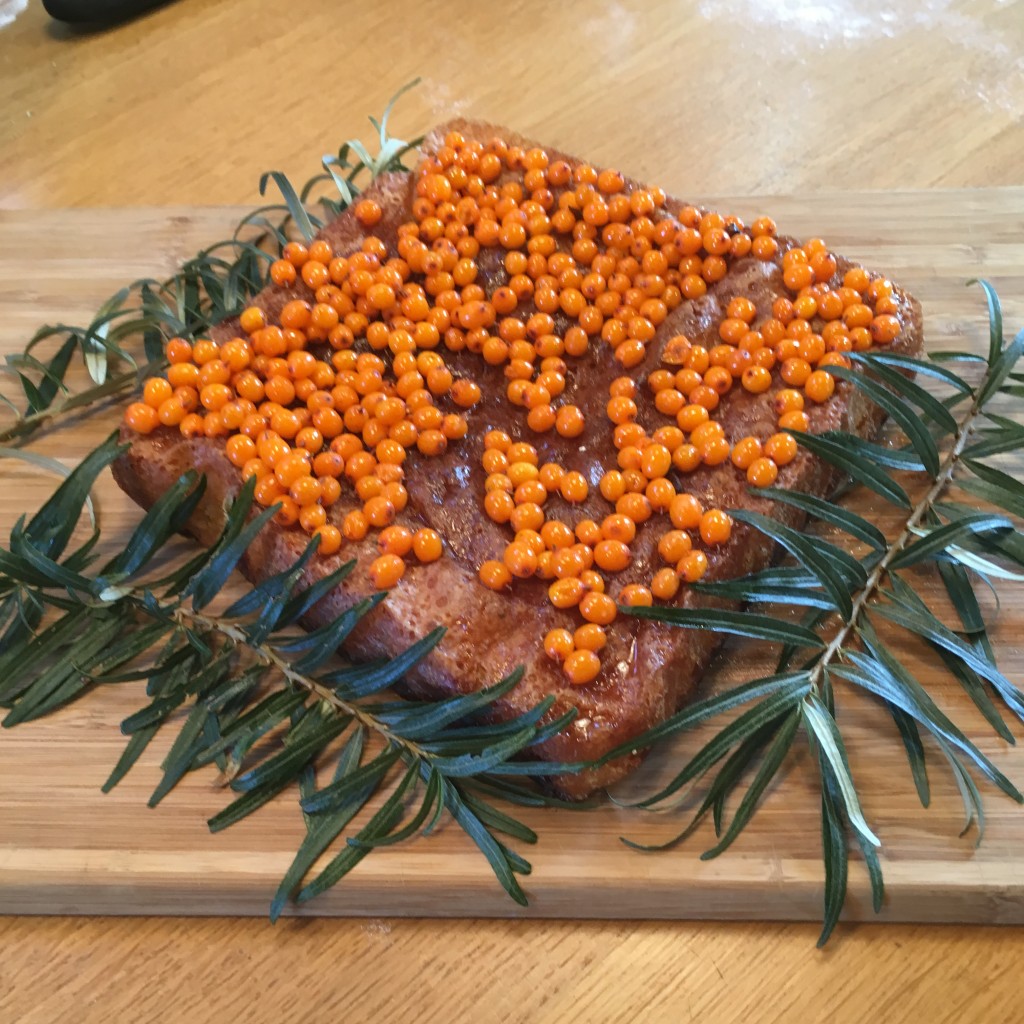 50g sea buckthorn berries
50g breadcrumbs
200g caster sugar
100g ground almonds
1 ½ level teaspoons baking powder
200ml rapeseed oil
4 organic eggs
Zest of 1 large unwaxed orange, finely grated
Zest of 1 unwaxed lemon, finely grated
Sea buckthorn syrup
Juice of one orange
Juice of one lemon
85g sugar
2 cloves
1 cinnamon stick
50g sea buckthorn berries
Greek style yoghurt to serve
Use a round tin, 20cm diameter. Line the base of the tin with a round of greaseproof paper. Grease and flour the tin.
Mix the breadcrumbs with the sugar, almonds and baking powder. Whisk the oil with the eggs, pour into the dry ingredients and mix well.
Add the orange and lemon zest. Fold in 50g of sea buckthorn berries. Pour the mixture into the prepared tin. Put into a cold oven and turn on with the heat set to 180˚C/350˚'F/Gas mark 4.
Bake for 45 mins or until the cake is golden brown. A skewer inserted should come out clean. Allow to cool for 5 minutes before turning out onto a plate.
Meanwhile, make the citrus syrup. Put all the ingredients, except the berries into a stainless steel saucepan and bring gently to the boil, stirring until the sugar has dissolved completely. Simmer for a few minutes until the syrup thickens, then add the sea buckthorn berries for 30 seconds at the end. Remove the cloves and the cinnamon stick, pierce the cake all over with a skewer and pour the syrup over the cake allowing the berries to be scattered over the top of the cake randomly.